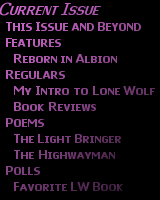 Inside this Issue and Beyond
John Grant invites us to a literary feast with a new flavour. He lets us gaze inside the revised edition of Albion, which is due for release soon along with its sequel, The World.
Special thanks goes to Jason Valasek for his picture of the Helghast.
There's been discussion behind the scenes lately amongst members of Kai-wisdom regarding a competition. See below.
Next issue:
Everybody who voted for the "current favourite" in this issue's poll will be encouraged to write a paragraph for a special collaborative article, "The best game book ever written". The editors of Rising Sun will compile an article from the responses.
Ryan Cross, Mike Feldman, and Lawrence Ritchie will run a competition, the details of which will be announced on Kai-wisdom, in March. We hope it will motivate everyone to read the books again, which should in turn stimulate discussion on Kai-wisdom. Tentative Outline: All entrants will read books 1-3 following the rules in Mike's "The Ultimate Lone Wolf Replay System", which can be found in the May 2000 issue of Rising Sun. They should record a summary of their adventures, one paragraph for each book. The summary and Final Score will be sent in to Rising Sun. Details to be posted on Kai-wisdom.
In order to get the community more involved and to fatten up Rising Sun, We'd like to see any or all of the following appear in every issue from now on:

Poem
Short Story
Picture
My introduction to Lone Wolf (REGULAR)
Book Review (REGULAR)
Letter to the Editor
Poll
Whatever you send us that's Fantasy related, preferably on Magnamund.