Coincidence
or How I Started Collecting Lone Wolf Books
by skarn
edited by Lawrence Ritchie
A long time ago in the far off time known as the eighties (1988), a good friend of my mother's visited us. He was really i nto Native American culture, and over the course of his stay he gave all my family what he called "Spirit Names".
Guess what?
Mine was Silent Wolf! I thought this was pretty cool, as I've always loved wolves. Wasn't really sure about the Silent part, as I've never had difficulty jabbering on, but he said it was the right name. The next day at school I mentioned it to a friend of mine, who told me about the Lone Wolf books and how Silent Wolf was Lone Wolf's original name. The next day, I bought the Magnamund Companion and the Gary Chalk Poster Book, and I haven't looked back!
The first game book I got was #11 (a few years after the Companion). I must have played it at least one hundred times. My friend had a good collection of all sorts of game books, so I borrowed a lot from him. Over time, I collected the entire series, plus the Legends of Lone Wolf series, poorly coloured in the Poster Book, and loved it all.
My favourite book has to be Dawn of the Dragons, closely followed by The Masters of Darkness, The Curse of Naar and Flight From the Dark.
The Lorestone of Varetta is my favourite Legends book.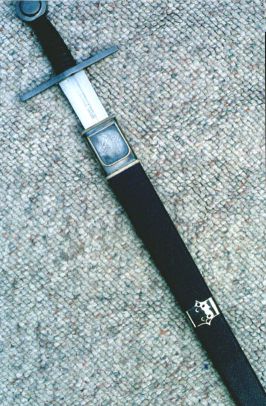 I had this sword commissioned by Arthur R. Elwell (www.a-work-of-art.net ), as a tribute to the name and the books I grew up with.
The sword is a Del Tin Antiche Norman Sword (an Oakeshott Type XII, see my earlier article on Kai Weapons). It weighs 2lbs 7oz (about 1.3 kilograms), is 39 inches long, crafted of Chrome Vanadium carbon steel, and is pretty sharp [gee, is that legal? -Ed]. The first time I oiled it, I was watching the Simpsons, laughed at something Homer said, and cut my palm open!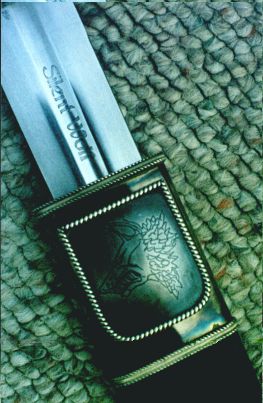 I got Arthur to order the Del Tin, customise it by writing the name Silent Wolf down the length of the fuller, and also to make the scabbard. The wolf head image is a modified version of a picture I found in Codex: Space Wolves (published by Games Workshop). Their version is supposed to be steel, so I had to make it seem a bit more "natural". The scabbard itself is oak, wrapped in black Morrocan pigskin, and mounted with antique German silver. Total cost? About the same as 140 Lone Wolf books!
Towards the end of this year, I am getting my own vision of Skarn-ska made by Master Bladesmith Kevin R. Cashen. Kevin is one of the few swordsmiths to hold an American Master Bladesmith Certificate, and is considered at the very top of his field. It's going to be a once-in-a-lifetime work, the sort of sword you pass down to your children. It's not going to be as 'fantasy' as Joe's, simply because it isn't really practical for a 'real' sword to have so much extra weight near the pommel (or the sword will vibrate when it hits something). The design is basically a combination of Joe's Skarn-ska and the Grandmaster's sword as shown on the covers of the New Order series. Maybe Rising Sun will do a feature on it when it's finished? Total cost? Almost triple the sword above!
(Yeah, so I'm crazy!)
skarn