Reviewing Magnamund
Lone Wolf Book 3
by Ryan N. Cross
edited by Lawrence Ritchie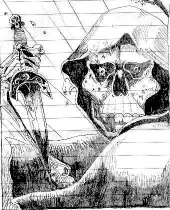 This article is a review of the third book in the Lone Wolf series, The Caverns of Kalte. The book is rated in three main categories: Plot, Writing, and Gameplay, which are averaged to give it an Overall score. Notes on difficulty for campaign play (in which you play the series in order) and solo play (in which you start with and play only one particular book) are included, as well as notes on playing weak and strong characters. A more detailed description of the Reviewing System can be found in last issue's article, which includes reviews for Flight from the Dark and Fire on the Water.
Keep in mind that the rating system works as follows: 1 is the lowest rating and 5 is the highest. A rating of 1 indicates that the book is below average in the category compared to other Lone Wolf book (1 doesn't mean the book or category is horrible). A rating of 3 means that the book is average in the category. A rating of 5 means the book is excellent and above average in the category compared to the rest of the Lone Wolf series.
Note: There are two versions of each review: a spoiler version and a no spoilers version. The spoiler version makes no attempt to hide spoilers, while the no spoiler version avoids specific spoilers about what happens in the book. Even in the no spoilers version, there may be some general spoilers about the direction of the book, but these are unavoidable in a review. If you haven't read the book that's being reviewed, it's best to read the no spoilers version, while if you have already read the book several times, you can go ahead and read the spoilers version.